Are you looking for the best standalone VR glasses, or have you heard about the Meta Quest 2, the Meta Quest Pro, or even the Apple Glass or Apple Reality Pro, but don't know where to begin? If so, then you have come to the right place as NextPit dissects this tricky frontier for you. We give you an insight into the world of AR, VR, MR, and XR and introduce the latest standalone VR glasses like the Pico 4 from ByteDance to you.
Three current standalone VR glasses in comparison
The industry leader
The cheapest
The newest and most expensive
Device
Image

Dimensions and weight

191.5 x 102 x 142.5 mm
503 g

255 (310) x 163 x 83.5 mm
586 g

Display and optics

2x 2.73 inch LCD panel
2x 1,832 x 1,920 (3,664 x 1,920) pixels
60/72/90 Hz refresh rate (120 Hz experimental)
104° horizontal field of view
98° vertical field of view
Fresnel Lens
58 – 68 mm (IPD)

2x 2.56 inch LCD panel
2x 2,160 x 2,160 (4,320 x 2,160) pixels
1,200 ppi
72/90 Hz refresh rate
105° field of view
Pancake Lens
62-72 mm (IPD) Motor driven

2x 1,800 x 1,920 (3,600 x 1,920) pixels
72/90 Hz refresh rate
106° horizontal field of view
96° vertical field of view
Pancake Glass Lens
55 – 75 mm (IPD)

Processor

Qualcomm Snapdragon XR2 Gen 1
7 nm structure width
Octa-Core
max. 2.84 GHz
Adreno 650 GPU

Qualcomm Snapdragon XR2 Gen 1
7 nm structure width
Octa-Core
max. 2.84 GHz
Adreno 650 GPU

Qualcomm Snapdragon XR2+ Gen 1
7 nm structure width
Octa-Core
max. 3.2 GHz
Adreno 650 GPU

Memory

6 GB RAM
64/128/256 GB ROM

8 GB LPDDR4X RAM
128/256 GB UFS 3.0 ROM

Cameras / Tracking

4x 6DoF tracking camera
1x B/W camera

4x 6DoF fisheye camera
1x 16MP RGB camera
IR eye tracking

4x 6DoF inside-out tracking camera
1x RGB camera
IR eye tracking
IR face tracking

Battery and runtime

3,640 mAh
2 hours runtime

5,300 mAh (QC 3.0)
2 hours runtime

mAh unknown
1-2 hours runtime
Charging Dock (48W)

Connectivity

WiFi 6 – 2.4 GHz – 5 GHz
Bluetooth 5.0 LE

WiFi 6 – 2.4 GHz – 5 GHz
Bluetooth 5.1

WiFi 6E – 2.4 GHz – 5 GHz – 6 GHz
Bluetooth 5.2

Sound

Stereo speakers
3D sound
2x microphones

Stereo speakers
360° Surround Sound
3D Spatial Sound
2x microphones

Stereo Speakers
3D Spatial Sound
3x microphones

Other

USB Type-C port
1x 3.5 mm jack connection
Air Link connection to PC
Link cable connection to PC (USB-C to USB-A)
Grayscale passthrough

USB Type-C connector
Wireless as well as cable link connection to PC (USB-C to USB-A)
RGB passthrough

USB Type-C connector
2x 3.5 mm (R/L) jack connection
Air Link connection to PC
Link cable connection to PC (USB-C to USB-A)
RGB passthrough

Controller

Specifications per controller:

2x 6DoF
Joystick and buttons
6-axis sensor (gyroscope)
HyperSense-Vibration motor
2x 2 AA batteries 1.5 V
30 hours runtime

Specifications per controller:

2x 6DoF
Joystick and buttons
6-axis sensor (gyroscope)
HyperSense-Vibration Motor
2x 2 AA batteries 1.5 V
80 hours runtime

Specifications per controller:

Qualcomm Snapdragon 662
3x 6DoF
Joystick and buttons
6-axis sensor (gyroscope)
HyperSense-Vibration Motor
Rechargeable battery
10 hours runtime

Operating System
Sales launch

October 13, 2020 (US)
$399.99 dollars (128 GB)
$490 (256 GB)

September 23, 2022
$425 (128 GB)

October 25, 2022 (US)
$1,499

Pros

"Inexpensive" VR entry
Up-to-date processor
Large VR app offer
Access to the Oculus and Steam VR store via link technology
Surprisingly good sound quality

Cons

Successor is coming this fall
Motion sickness risk
Poor battery life
Grayscale passthrough

Review

Not yet reviewed

Not yet reviewed

Check offer*
Check price
–

Check price
Buying advice: What should you look out for?
AR/VR/MR/XR: What's the difference?
Anyone interested in virtual reality has probably been confronted with abbreviations like AR/VR/MR and XR more than a few times. These stand for augmented reality, virtual reality, mixed reality, and extended reality.
VR, or virtual reality, is a completely separate world, which has been programmed like a computer game and completely isolates the wearer of the headset from the outside world. The user moves "directly in the game" or the corresponding simulated world. Sensors and cameras recognize the body movements and adjust the optical display accordingly. The first known manufacturers include HTC with their Vive or Oculus with the Oculus Rift from 2016 (Developer Kit 2014).
Augmented reality, on the other hand, gives users a clear view of the "real" environment. It usually comes with a display, as with Google Glass, additional information is superimposed—hence the term "augmented reality". The latest model in this category is the Oppo Air Glass 2, which is no longer recognizable as a wearable device despite its built-in speaker and microphone. This means it can be used in a practically invisible manner in everyday life for live translations or navigation.
With mixed reality, the name already suggests the following: It mixes AR and VR in a certain way. A distinction should be made between the two approaches. On the one hand, there is the very well-known Microsoft HoloLens or simple head-up displays in cars. In my opinion, both of these are incorrectly referred to as "mixed reality". The second approach is the Meta Quest Pro which was recently introduced by Facebook.
Here, the term MR is justified because the users basically see computer-generated images and record the actual reality with an external camera, and this image is also mixed with the VR image. For example, only parts of the "live image" such as a real keyboard or coffee cup on the table can be displayed and the rest consists of virtual reality. In the all-in-one glasses presented by us here, this so-called "passthrough" mode is available in all three headsets.
The only thing missing is the XR, i.e. Extended Reality: here, too, I would speak of a kind of Mixed Reality, although it is rather the overarching term of AR and MR. Apple has now brought this term back into the conversation with its planned Apple Glass and Reality Pro glasses. However, some like to distinguish the terms by the amount of additional virtual elements, graphics, or added "holograms".
In my opinion, over the long or short term, there will only be one form of artificial addition to reality. We are currently in the middle of the development process, so the entire shebang can be a bit confusing.
Wireless or tethered?
While this question doesn't even arise with augmented reality because it focuses on mobile (the most popular example: Pokémon Go for the smartphone), the question does arise with VR. Although this article focuses on standalone VR glasses—i.e. without a cable connection—you would think that the question would be pointless here as well. However, since our three mentioned candidates can also be operated in a wired manner through a high-performance PC, I want to elaborate on it a bit.
The first VR glasses like the Oculus Rift or the HTC Vive are wired VR glasses, which require a gaming-ready PC. Current models like the HTC Vive 2 Pro, which we are currently reviewing in the NextPit editorial office, also rely on a wired connection. The minimum requirement for the PC's graphics card is currently an NVIDIA GeForce RTX 2060 or AMD Radeon RX 5700 or better.
However, standalone VR glasses like the Meta Quest 2 can also be connected to the gaming computer with a link cable if desired. The advantage? It is not the Snapdragon X2(+) that comes installed in the headset that provides the necessary performance, but the powerful PC. The result is a higher resolution and performance, as well as access to PC-exclusive VR games from the Steam and Oculus VR stores. The downside: With a wired connection, you're locked to a location near the computer – regardless of the fact that, as a rule, the cable is perceived as annoying in the game.
The Meta Quest 2, Meta Quest Pro, and also the Pico 4 offer a connection via WLAN (called "Air Link" at Meta) in addition to the cabled connection to the PC. In that case, only the most powerful PC builds possible can be used to deliver amazing performance, and there is no limit when it comes to accessing the Steam and Oculus VR Store.
Which lenses are available?
Who does not know about them? The Google Cardboard and Samsung Gear VR, are the forerunners of today's VR glasses. Back in 2014, Samsung worked very closely with Oculus (now known as Meta). The basis for VR enjoyment at that time was the smartphone with its processor, sensors, and display. The Gear VR provided the appropriate bay for the smartphone (preferably the Samsung Galaxy S6) and positioned two Fresnel lenses in front of the 5.1-inch AMOLED display (2,560 x 1,440 pixels): and voilà – the VR glasses were ready.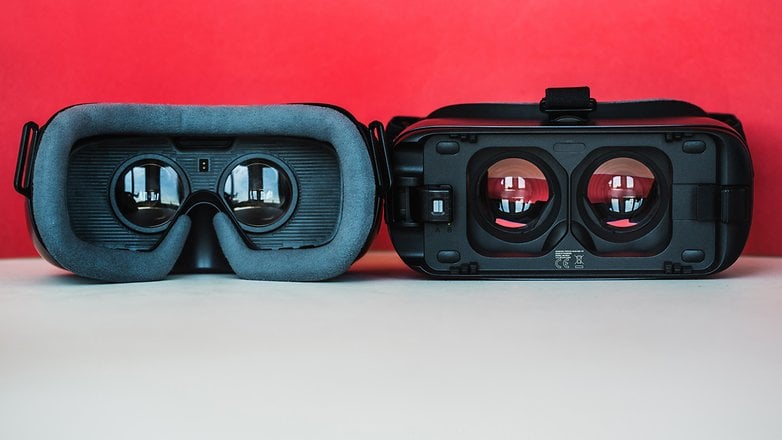 Fresnel lenses are still used today, such as in the Meta Quest 2, but are increasingly being replaced by so-called pancake lenses. Both the Pico 4 from DreamDance and Meta use them in the Quest Pro. Now you are rightly wondering what the differences are between a Fresnel and pancake lens.
Before I make it too complicated by waxing philosophy about the cut, chromatic aberration, and the different light bundling, I'll keep it short and sweet: Pancake lenses offer more advantages than disadvantages compared to Fresnel lenses. They are significantly thinner and thus support the trend towards increasingly lighter and unobtrusive designs of VR glasses. Thus, a pancake lens is increasingly advantageous for eyeglass wearers as well. So far, plastic has been used for manufacturing. However, Meta hints that the pancake lenses will be made of glass or with glass components. An answer is still pending.
Applications: from office to gaming
Our three standalone VR glasses presented here have far more application fields than you might think at first glance. The primary categories are entertainment, fitness, gaming, office, and social. I have deliberately left out the B2B sector, i.e. business applications such as architectural offices, doctors, car design, and training purposes.
Classic examples of entertainment include live TV, YouTube, and Netflix. Fitness is probably self-explanatory and a nice thing for people who want to burn a few calories without having to go to a real gym. Gaming was probably on everyone's mind and also needs no explanation.
The office category is a bit different: With Meta Horizon Workrooms, you can not only hold meetings in large or small teams, but also give presentations or work productively on a whiteboard from anywhere in the world. You can also take many documents with you into the meeting and share them.
But a "home office" setup is also possible with several virtual monitors. This is especially true with the aforementioned passthrough mode, which displays your keyboard or offers one of the compatible keyboards virtually, opening up completely new possibilities. Although other providers such as Immersed Office also offer good alternatives, Meta will probably ultimately prevail in this area as well.
And of course, this is where Mark Zuckerberg's highly praised Metaverse comes into play. With the Meta Quest Pro, eye and face tracking is possible and breathes facial expressions into your virtual avatar, which immediately lends a more life-like conversation.
Sufficient space
All three VR goggles require a so-called "Guardian Line" in addition to the floor height during the initial setup. This is the area that you should use as a VR playground in the future. The minimum size should be 2 x 2 meters and no larger than 5 x 5 meters. If there is a TV or other easily breakable items in the immediate vicinity, move them aside or make the area smaller at this point. I have already managed to hit my Smart TV with a decent swing while playing VR tennis. Everything was all right in the end, but it could have ended differently.
In the so-called "Roomscale", you can also virtually draw in your entire room including couch, table and other VR furniture, doors and windows. In fact, it is also possible to virtually map the entire apartment, but this requires an app that can only be installed via sideload, which would be the wrong place for a tutorial in this overview.
The user interface and the right VR store
Android is used in three of our recommended VR glasses. One packs its own user interface on top, making it similar to a smartphone, but in the end it is Android, with all its advantages such as sideloading that was mentioned.
Every manufacturer like Vive, Oculus, Pico, and Meta have their own VR app store. The price per VR app starts at around $10 and above, although there are exceptional cases that cost a whopping $60. Of course, you have to decide which store to invest your money in for the long term.
However, we already learned that all three standalone glasses also support the Oculus and Steam VR stores via cable or Wi-Fi connection to the PC. Thus, there is virtually no risk of incompatibility when buying from these two stores – unless you don't want to constantly bring your computer to the start in order to quickly play a bit of VR. A classic title here would be Saber Beat, one of the most popular meta VR games (only for meta glasses), which is currently available for free (until 12/31/22) with the purchase of a Meta Quest 2.